History
In the district of Chittorgarh, in south Rajasthan, nestles a small estate named Deolia. It was founded by Prince Rajkumar Pratap Singh, a scion of the Royal family of Mewar. Having long cherished the desire to rule independently, he moved away to the borderland between Mewar, Malwa and Bagar. After Defeating Devi Mini, the tribal queen, who ruled the region, he founded Deolia in 1561. The rule in Deolia however was short lived, as the scarcity of drinking water compelled the royal family to move to the new capital Pratapgarh, 16 kilo meters to the east. The fortified town of Pratapgarh is mostly surrounded by Bhil and Mina villages. As the town flourishes on a near barter economy of transaction between the tribals of the nearby villages and the money lending "Bora" shopkeepers (who largely inhabit the land), it is rather incredible that the famous art of Thewa work has been flourishing here for generations.

THEWA is a word from the local Rajasthani language which literally means "SETTING". Thewa is an art of fusing 23ct gold with multicoloured glass. It is a very detailed and intricate process. A 23ct gold piece is first beaten into a very thin sheet. Intricate designs are inscribed onto these gold sheets using very fine chisel. This gold sheet, called as "Thewa Ki Patti" is fixed to a lac-resin compound spread on a board by slightly warming the lac and then pressing the gold sheet onto it. An open work pattern is pierced thru these gold sheets placed on the lac-resin covered board by knocking off the portions which ultimately creates the intricate design. The gold sheet is gently peeled off by heating it.

Nathu ji Soni invented the process; the secrets of the craft that passed directly from father to son over the generations remains in the family only, who call themselves 'Raj-Sonis'. Many of the members from this family have been awarded by UNESCO, National & State Government Awards. Some of the finest examples of this unique form of decorative art are in local museum collections in India as well as abroad including the Metropolitan Museum of Art and the Victoria & Albert. Thewa art originated about 400 years ago in the district named "Pratapgarh"in Rajasthan. The founder of this unique art form Nathu Lal Soni was conferred the title of "RAJ SONI" (Royal Goldsmith) by Maharaja Sumant Singh. Shri Ram vilas Rajsoni who was famous for his fineness in this artwork among the family and skill craftsman. The Chief Artist Mahesh Raj Soni has been awarded by the government of India in 2015 by "Padma Shri" Award he was a member of Rajsoni family of Pratapgarh Rajasthan and have kept thewa art alive. All sixteen members of the family have been awarded the National award and State award for Thewa art. Mahesh Rajsoni was Born on May 21, 1954. Shri Mahesh Rajsoni passed his secrets of the craft directly from father to his son Kalpesh Rajsoni. We have our family members who learned this art and creating thewa pieces. We at Thewastore, craft the finest original thewa art jewellery.


Like the rest of Rajasthan handicrafts, the glass works of Pratapgarh are unique in both design and usage. Besides beautiful and traditional items such as handicraft items, glass photo frames, trays, glass art ware, glass jewelry boxes, lamp shades, flower vases, crystal wine glasses, flasks, glass pots, antique crystal chandeliers, glass coasters, glass lamp shades and glass paintings, Pratapgarh is renowned for its Thewa work. Colored glass base, embossed with golden miniature artwork is the special attraction of the Thewa work. Floral patterns are etched on gold foil and superimposed on glass moulds and the glassware is cast in such moulds. Thewa pendants are famous pieces of jewelry and their blazing hues and exquisite patterns attract women across the world.

The most exquisite article of Thewa work can be seen in the Metropolitan Museum, New York. These articles were made about 100 years ago. There is a large plaque in the collection of the Geological Museum in London and the Queen of England has, in her personal belongings, an intricate casket, with extremely narrative panels. which was made by Mathura Lal Ji Soni (our great grandfather).

The Thewa work is one of the many fine examples of our glorious past and a constant reminder of our heritage, where human skill was nurtured with supreme precision and care. As this work is still a handmade work. no machine work is done to prepare a Thewa art Jewellery. It is a perfect gift to those who love wearing royal and traditional kinds of jewellery.

The Government of India recognized and praised the thewa art by publishing a postal stamp of Rs 5 on Thewa on November 5, 2002.

Thewastore by Kalpesh Rajsoni has 3 locations to display their artwork. Our manufacturing house and main headquarter is in Pratapgarh with biggest display stores in Jaipur and London. With excellency of artwork which Kalpesh has learned from his father and with the revolution of thewa art, he is crafting modern designs.

In 2018, my father Padmashri Mahesh Rajsoni won Bharat Gaurav award in British Parliament London, UK. And he is the only person who got to see the actual Thewa art piece present in the museum of London. To fulfil his dream, I have started crafting new pieces and moved to London in 2021 to explore the new art forms and introduce thewa to the art community of London. Kalpesh Rajsoni is carry forwarding the legacy of his father and working internationally to expand this artwork and do more innovations.


The art form owes its existence to the single-handed efforts of revivalist Kalpesh Rajsoni, S/O Padmashri Mahesh Rajsoni, who has single-handedly revived this art form. His revival journey started in 2009. He hails from a family that has the tradition of dedicating itself to service of the nation. His father worked his entire life as a thewa artist. Kalpesh is the 6th generation of Rajsoni family. He has won many awards and become the first digital entrepreneur from his family.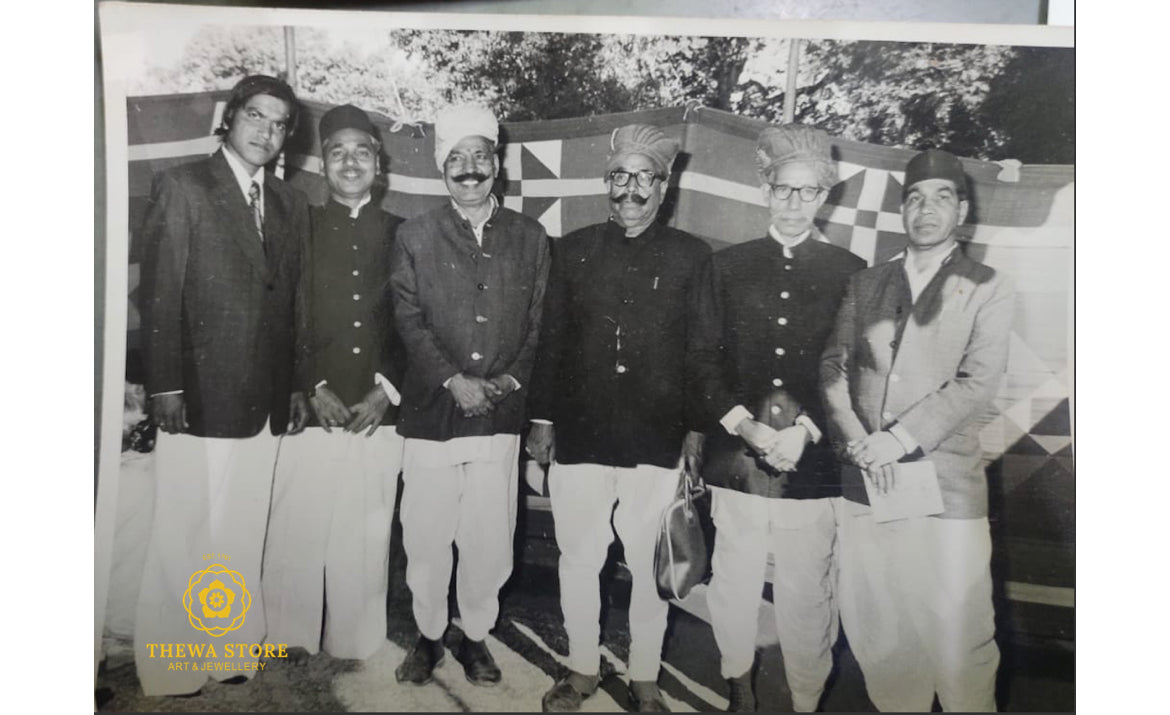 Award Ceremony
This image was captured in 1983 where all the thewa artist of rajsoni family gathered for National Award Ceremony.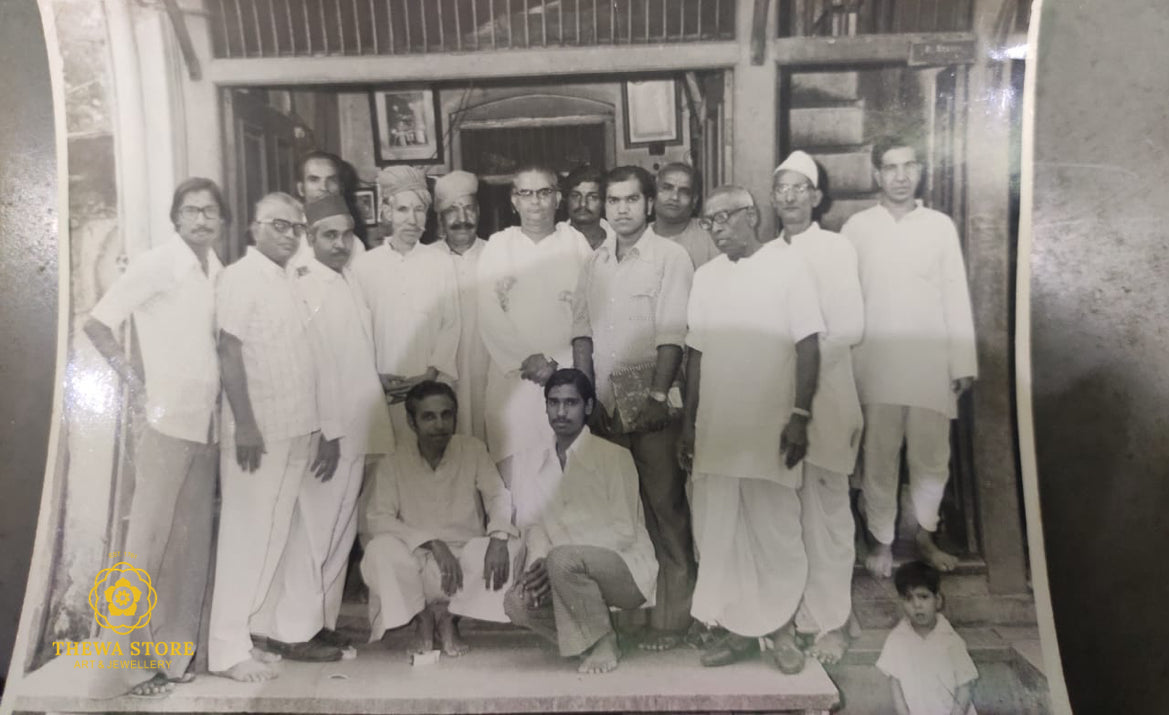 2nd Generation, Thewa Artists
This image was clicked at our house in Pratapgarh, Rajasthan by a news publisher who published the article on "thewa art gaining popularity".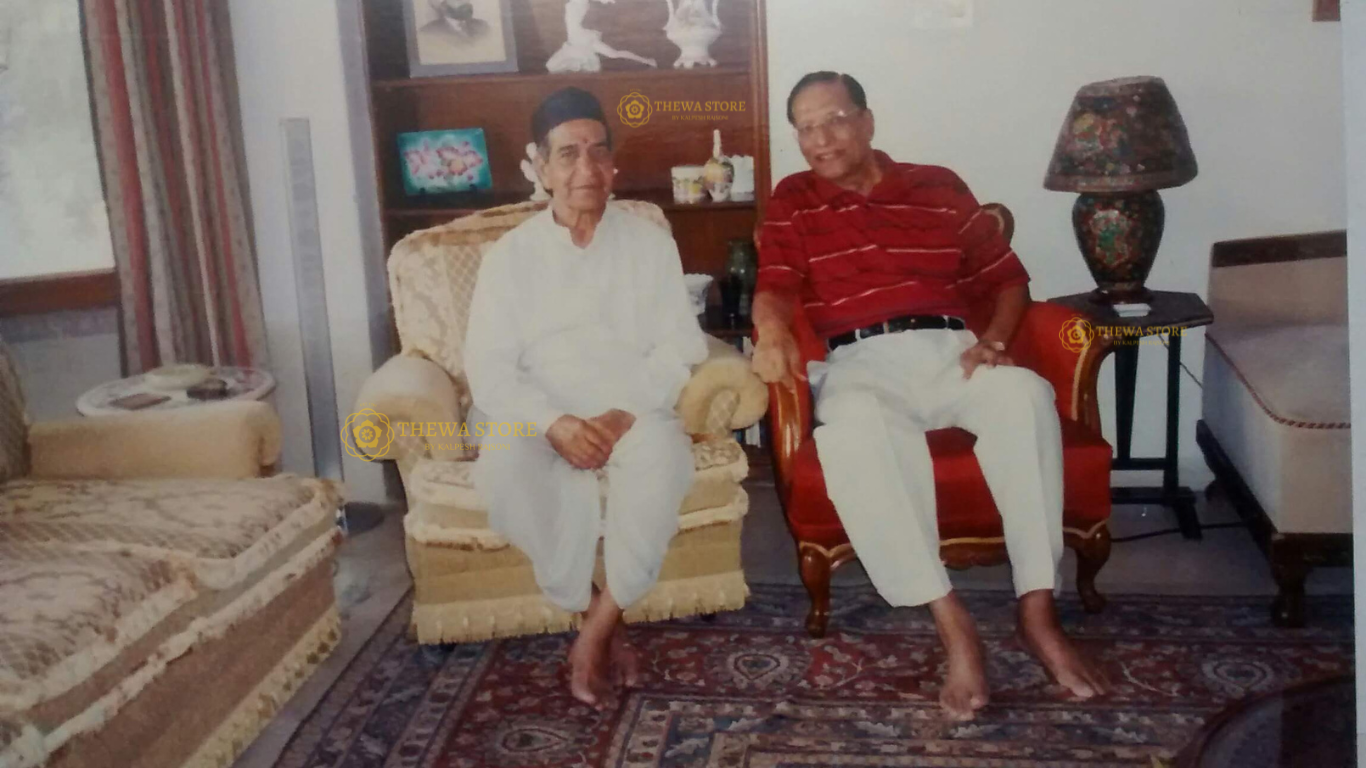 Jaipur Fame
This image is of my grandfather Ramvilas Ji Rajsoni with the famous industrialist of Jaipur, Mr. Raghu Sinha Ji, who supported this artwork throughout his life.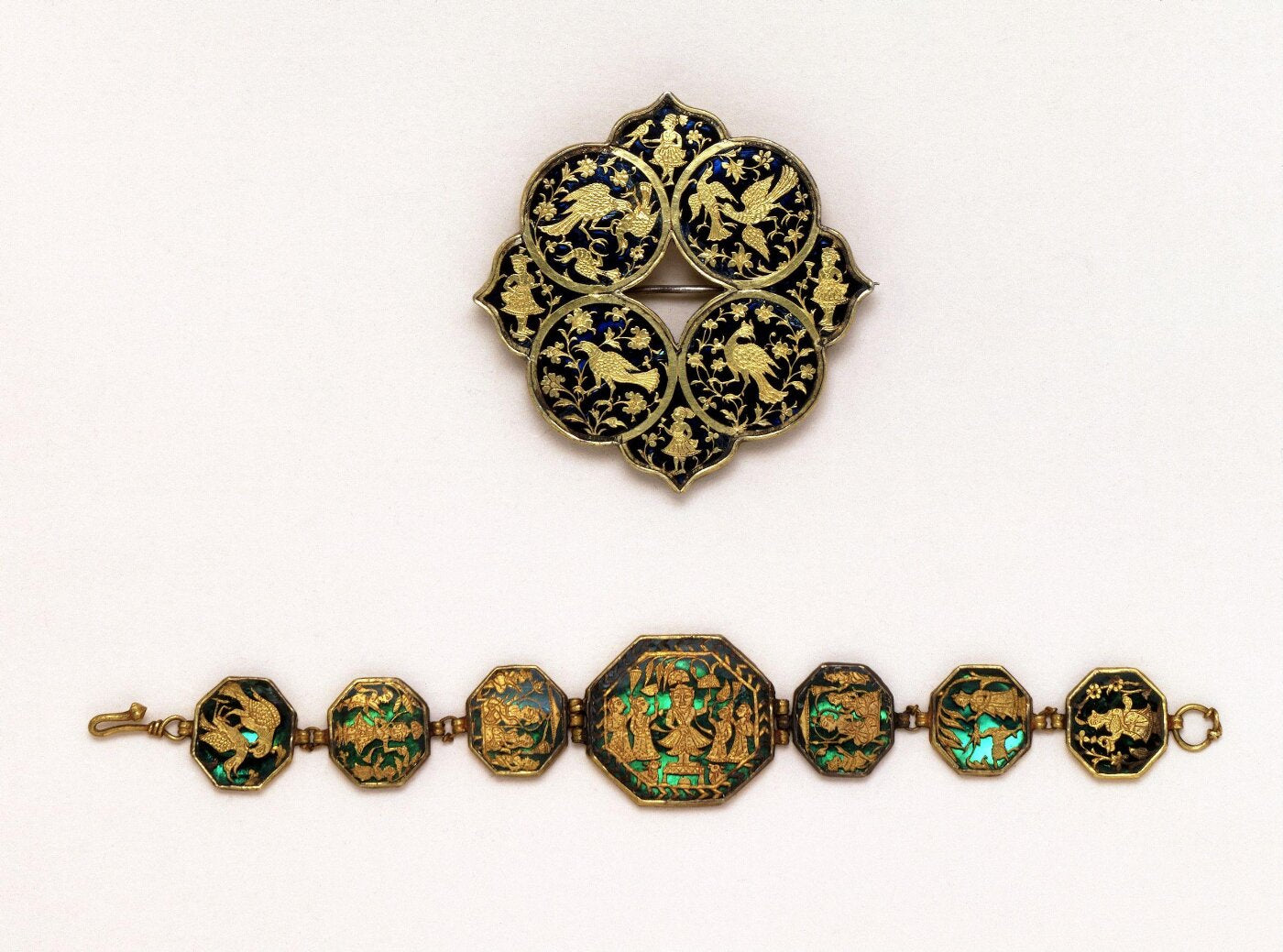 V&A Museum, London
This image is of V&A Museum London. We have our thewa articles present currently here in south asian gallery.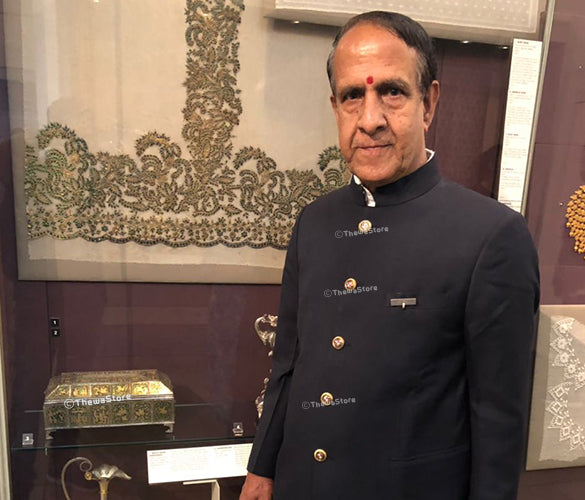 Bharat Gaurav Award, London
This picture has been captured in 2018, during the first visit of Mahesh Rajsoni to London for receiving the "Bharat Gaurav" Award in London.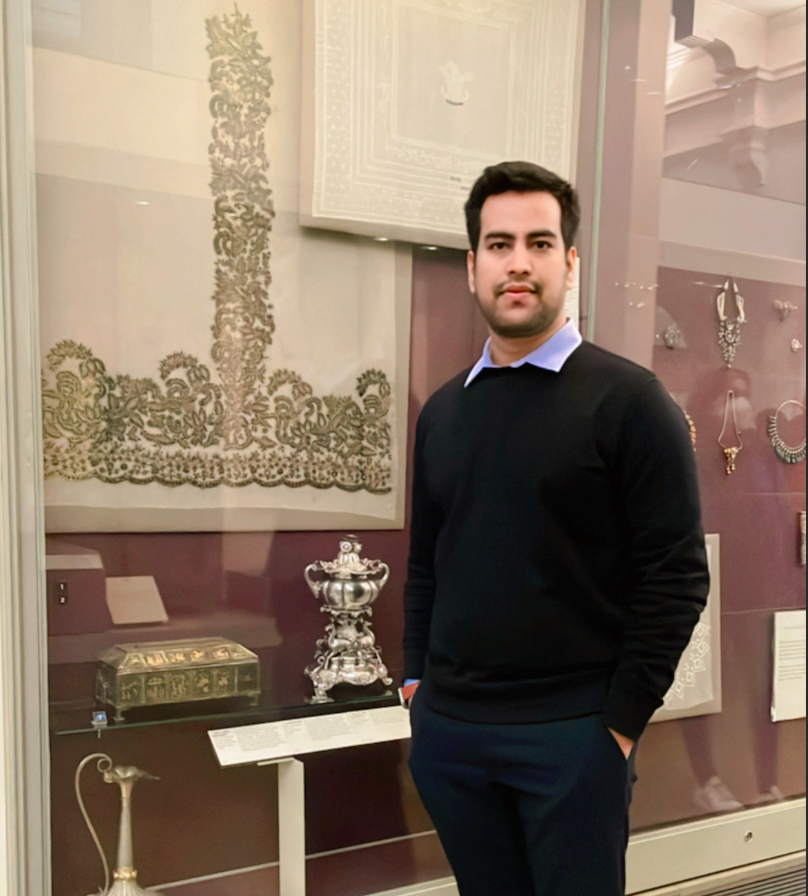 V&A, London
This picture has been clicked in 2021, during the first visit of Kalpesh Rajsoni to London for exploring the art forms and exhibiting his collection to London art community.